For International Visitors
Please check the link below bofore you visit to Houkokuji temple.
About Houkokuji Temple

Houkokuji Temple is a Zen Buddhist temple within the Kenchoji order of the Rinzai sect.
It was established by Tengan Ekō in 1334 (the first year of the Kenmu era) to commemorate Ashikaga Ietoki, the grandfather of Ashikaga Takauji, the first of the Ashikaga Shōguns.
The principal image enshrined in the main hall is the Shaka-nyorai-zazō (sitting Shakyamuni.) The image was crafted by the famous Buddhist sculptor Takuma Hōgen and is classified as significant cultural property by the city of Kamakura.
In the Kashō-dō (annex building) a detailed statue of the founder Butsujō Zenji (Tengan Ekō's posthumous title) is enshrined. Crafted in 1347, this statue is also classified as significant cultural property. Another statue enshrined here is Kashō-Sonja, a disciple of The Buddha.
Many of Houkokuji's important treasures are preserved in the Kamakura Kokuhoukan Museum. Among them are the Tōki-Shū, a manuscript of Chinese poems written by the founder and his wooden seal. Both items are classified as significant cultural property by the Japanese Government.
A variety of bamboo known as Mōsō grows here. Tengan Ekō's retreat was here and forms the current bamboo garden.
We hope that your visit to this temple will bring you peace of mind.
Access & Admission
To Kamakura Station(train)
Approx. 60minutes from Tokyo Station (or 50 mins. from Shinagawa Station) on the JR Yokosuka Line
Approx. 53minnutes from Shinjuku Station on JR Shounan-Shinjuku Line
From Kamakura Station
Approx. 7 minutes by taxi
Approx. 12 minutes by Keikyu Bus
(bound for Kamakura-reien-shoumenmae-tachiarai・
kanazawahakkei / Highland) to Joumyoji bus stop
↓
Approx. 3 minutes'walk from Joumyoji bus stop to Houkokuji Temple
By Car
Approx. 10 minutes from Asahina Interchange, Yokohama-Yokosuka Highway
A small car park is available but if this is full, please seek parking at a nearby (paid) car park.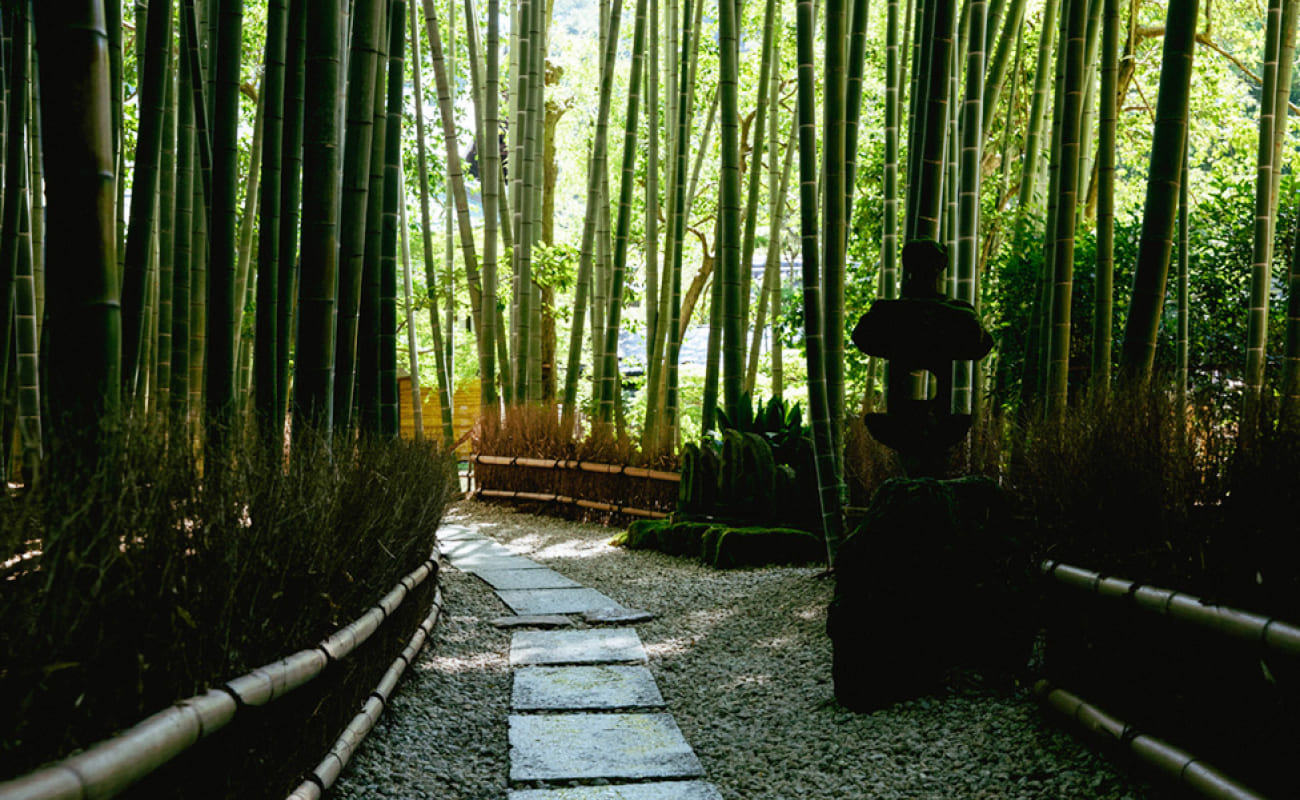 Opening Hours

9:00~16:00

Admission Fees

400 yen
Closed 12/29~1/3
Closed In case of bad weather
Matcha Fees

600 yen(with dry Japanese sweets)
Last order at 15:30
For Your Attention
Please Remain Quiet

Do Not Use Any Camera Pods

No Smoking

Do Not Get Over The Fences

No Eating and Drinking

Can Not Come With Any Pets(except for guide dogs)

Do Not Touch The Plants